Chiropractic care is the backbone to a healthy family.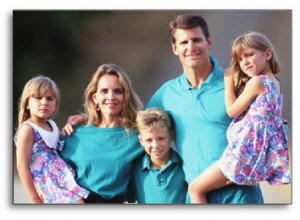 Has your spouse or a loved one ever been injured? This scenario creates added stress to the healthy family member because they typically pick up the slack by taking on the chores that the injured spouse handled. Now let's throw a sick child into the mix, and suddenly, you feel like you are all alone, doing everything, making all the decisions and getting run down. I have been there, and one thing that made all the difference was that I remained healthy, which I attribute to regular chiropractic care. As a chiropractor, "I walk it like I talk it" and make sure to get regular chiropractic tune-ups. This keeps me healthy and energized, especially when I need to pick up extra duties at home.
Life doesn't always go as planned when you have kids. Either both parents are working, there is a single parent situation or extended family staying with you. At times there is unexpected strain or stress in every family, whether it is physical, mental, financial or even emotional. Don't underestimate the power of regular chiropractic care when it comes to keeping the entire family up and running! Everyone stands to benefit: mothers and fathers, grandparents, aunts and uncles and children too.